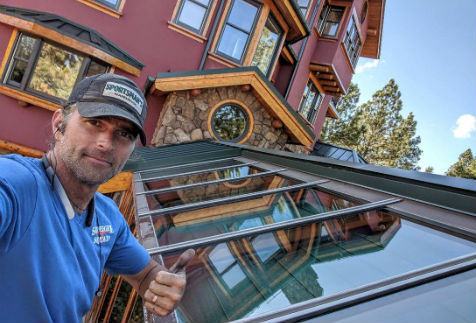 13295 E King John Rd
Parks
AZ
86018
Window Cleaning
Proudly Servicing: Flagstaff AZ, Sedona, Happy Jack & Surrounding Areas
Need a great window cleaning service you can trust? Looking for a highly qualified team of professional cleaners to make your home or business look fresh again? We have you covered!
Thank you for considering Squeegee Squad – Flagstaff AZ.
Thousands of you have come to trust our customer service-oriented approach to provide a great window cleaning experience.
Our window cleaning company was built on a solid foundation and will continue to grow and serve the Flagstaff AZ area for years to come.
Contact us for a free estimate on Window Washing!
Our Services
Flagstaff AZ residential window cleaning is performed by hand to ensure a quality clean every time. Satisfaction guaranteed! Squeegee Squad Flagstaff AZ caters to residential homeowners and understands the quality and care that is necessary when going inside your home.
Flagstaff AZ building owners, property managers, and janitorial companies have all appreciated Squeegee Squad's customer service oriented approach inside reputable commercial window cleaning properties.
Squeegee Squad Flagstaff AZ is dedicated to remaining on the cutting edge of safety standards, staff training, and follow up ongoing training for your high rise window cleaning needs.
Start your way to cleaner windows today
Choose Us For Your Flagstaff AZ Window Cleaning Needs
We Take Pride In Our Work!
We treat every job as if we are fighting for our next. As a family-owned business, we have always believed that hard work beats skill and when you bring the two together you can't be beaten. With your Flagstaff window cleaning team, there are no cutting corners. We are sure to always arrive on time and complete the job in an efficient and proper manner.
Window Cleaning It's All About The Details!
Window cleaning and washing is an extremely detail-oriented job. We are sure to never leave drips or streaks. Our window cleaning and washing equipment are always new or in excellent condition to be sure we never scratch your glass. In some cases, we may have to move your outdoor decorations or furniture. We make sure to take a picture prior to moving it to guarantee it's put back just as it was before.
Your Neighborhood Window Cleaning Business!
We are local to Flagstaff AZ. We are your community window cleaning team you can count on!
It's as easy as one, two, three – Search "window cleaning near me" to have your local Squeegee Squad team on their way!
Zip Codes Served
86336, 85931, 86001, 86003, 86004, 86011, 86015, 86016, 86017, 86018, 86020, 86022, 86023, 86024, 86035, 86036, 86038, 86040, 86044, 86045, 86046, 86052, 86053, 86435