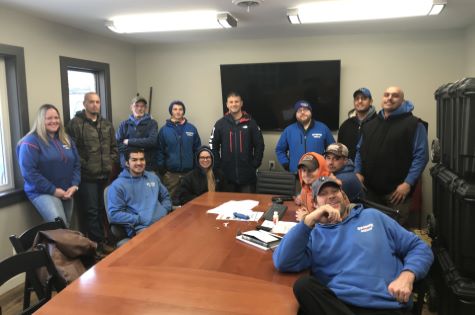 315 Atwater Street West
Saint Paul
MN
55117
Window Cleaning & Pressure Washing Service
Proudly Servicing Minneapolis, St. Paul, Apple Valley, The Lake Minnetonka Area, Edina, Bloomington, Eden Prairie, Chanhassen, St. Louis Park, Plymouth, Maple Grove, Brooklyn Park, Champlin, Coon Rapids, Blaine, Chaska, Eagan, Mound, Lake Elmo, Woodbury and more.
Need a great window cleaning service you can trust? Looking for a highly qualified team of professional cleaners to make your home or business look fresh again? We have you covered!
From the Local Squeegee Squad Owner
Hey, my name is Joe, Husband, Father, and window cleaning wiz!
We have been around for over 10 years and in that time we have performed window cleaning services into the tens of thousands in the Minneapolis and St. Paul Metro areas and the surrounding suburbs.
We have expanded to offer a whole plethora of additional restoration and cleaning services. Almost all of them involve a ladder. We figure you might as well take care of it all while the ladder is leaning!
In addition to our residential window cleaning services we offer commercial and high-rise window cleaning services we also offer gutter cleaning, pressure washing, building restoration caulking, and much more. Be sure to check out our services page, as we just may be the one-stop-shop for all your needs!
Doing a little price shopping, well you can stop now! Your Minneapolis & St. Paul MN Squeegee Squad offers the most competitive prices in Minnesota for window cleaning and window washing services. Fill out the form to the right to receive an instant quote or give us a call to receive your estimate over the phone.
Give us a call today to schedule your Squeegee Squad window cleaning, pressure washing, or any other service.

4.7 Stars on Google+

4.8 Stars on Facebook
(952) 835-0011
Our Services
Start your way to cleaner windows today
Choose Us For Your Minneapolis & St. Paul MN Window Cleaning Needs
We Take Pride In Our Work!
We treat every job as if we are fighting for our next. As a family-owned business, we have always believed that hard work beats skill and when you bring the two together you can't be beaten. With your Minneapolis & St. Paul MN window cleaning and pressure washing team, there are no cutting corners. We are sure to always arrive on time and complete the job and in an efficient and proper manner.
Window Cleaning It's All About The Details!
Window cleaning and washing is an extremely detail-oriented job. We are sure to never leave drips or streaks. Our window cleaning and washing equipment are always new or in excellent condition to be sure we never scratch your glass. In some cases, we may have to move your outdoor decorations or furniture. We make sure to take a picture prior to moving it to guarantee it's put back just as it was before.
Your Neighborhood Window Cleaning Business!
We are local to Minneapolis & St. Paul MN. We are your community window cleaning and pressure washing team you can count on!
It's as easy as one, two, three – Search "window cleaning near me" to have your local Squeegee Squad team on their way!
Introducing Our Sister Companies Dream Steam Carpet Cleaning & Harry Falk! 
Dream Steam Carpet Cleaning
We provide world class carpet cleaning, upholstery cleaning, tile and grout cleaning and air duct cleaning.
Click here for more information on carpet cleaning or carpet cleaning quote.
Harry Falk Company
We provide window cleaning equipment and supplies
Water Fed Poles, Ladders and Accessories, Gloves, Sponges and much more with 1000's of items to choose from!
Minneapolis & St. Paul MN Window Cleaning – Squeegee Squad
Zip Codes Served
55421, 55432, 55433, 55434, 55449, 55118, 55120, 55121, 55122, 55123, 55124, 55401, 55402, 55403, 55404, 55405, 55406, 55407, 55408, 55409, 55410, 55411, 55412, 55413, 55414, 55415, 55416, 55417, 55418, 55419, 55420, 55422, 55423, 55424, 55425, 55426, 55427, 55428, 55429, 55430, 55431, 55435, 55436, 55437, 55438, 55439, 55440, 55441, 55442, 55443, 55444, 55445, 55446, 55447, 55450, 55454, 55455, 55458, 55459, 55460, 55467, 55470, 55472, 55473, 55474, 55478, 55479, 55480, 55483, 55484, 55485, 55486, 55487, 55488, 55101, 55102, 55103, 55104, 55105, 55106, 55107, 55108, 55109, 55110, 55112, 55113, 55114, 55116, 55117, 55119, 55126, 55127, 55130, 55133, 55144, 55145, 55146, 55155, 55164, 55165, 55166, 55168, 55170, 55171, 55172, 55175, 55187, 55188, 55115, 55125, 55128, 55129